Hi, I'm Virginia St-Denis. I am a publishing professional with 30 years of experience in writing, editing, desktop publishing and managing newspapers, magazines, newsletters, journals and websites.
Having started my career as a journalist, I became a professional storyteller before storytelling was considered an important part of marketing and communications. My skills and hard work earned me a promotion to be the editor of a community newspaper. I became the editor of a hobby magazine and then a plain language academic research journal.
While working in corporate communications settings, I edited annual reports, newsletters, reports and various business documents. I was the managing editor for three medical research journals before going back to a magazine.
Now, my work mostly focuses on editing research reports, journals, medical exams and government submissions, and desktop publishing of journals and reports.
Since 2002, I've worked with not-for-profit organizations. This experience has taught me how to do more with less without sacrificing quality. It has also allowed me to work with subject matter experts. I've learned a lot from Indigenous health professionals, psychiatrists, obstetricians and gynecologists, radiologists, nurses, medical specialists and residents.
I have enjoyed helping not-for-profit organizations gather and package information into useful and engaging content. I do that by providing writing, editing and social media services to keep target audiences coming back for more. My outstanding organizational and time-management skills allow me to complete overlapping high priority projects with tight deadlines on schedule and on budget.
Memberships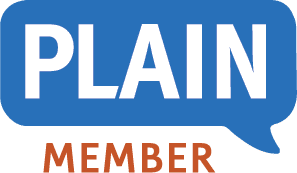 My background as a journalist means I have being a plain language practitioner from the start of my career. I've kept up-to-date with plain language techniques and share my knowledge with others. As a member of the Plain Language Association International, I follow their definition of plain language, which comes from the International Plain Language Federation.
As a Language Portal of Canada Ambassador, I help promote trusted and high-quality language resources, as well as provide readers with access to official languages resources. As a volunteer, I promote the portal's tools and services to the people in my networks. I have even written a post for the Our Languages blog.
I'm a member of many social media groups for editors. These not only provide great networking opportunities and professional support, but these also provide platforms to learn from others and to share my knowledge with them.
Lifelong Learning
I have a three-year Journalism diploma and a five-course Social Media certificate. I believe in lifelong learning and regularly take workshops, seminars and webinars to keep up with the fast pace of change. Here's a list of some of the professional development I've taken.
Editing
Copy Editing I: Introduction to Copy Editing
Copy Editing II: Judgment Calls and Added Value
Doin' it Right: Correct Grammar and Punctuation
Editing and Inclusive Language: A Workshop for Editing Professionals
Editing Medical-Legal Reports: A Big Little Niche
Editing Skills for the Workplace
Eight-Step Editing: Finding and Fixing Common Readability Problems
Electronic Editing: How to Capitalize on Microsoft Word to Simplify Editing and Writing
Fact-Checking
Grammar Boot Camp
Grammar: It's More Than a Gut Feel
Inclusive Language as a Tool of Transformation

Practical Proofreading

Secrets of Syntax
The Sweet Spot: Editing Infographics
Writing and Editing for the Web
Plain Language
Five Steps to Plain Language Success
Let the Fire Burn Brightly: Wordiness Be Gone!
Implementing Plain Language as a Strategic Priority
Plain Language 2.0
Plain Language and Audience Appreciation
Plain Language: Five Steps to Success
Plain Language Writing and Editing
Preparing to Offer Plain Language Services
Social Media
Applied Social Media in Business
Developing a Social Media Strategy
Digital Communication
Facebook Best Practices: The 3 Types of Content That Audiences Love

A 5-Day Plan for Increasing Your Twitter Engagement

Hootsuite Platform Certification
How to Build a Social Following: The Tools, Tactics, and Routines of 3 World-Class Social Media Experts

How to Use Social Media at Every Stage of the [marketing] Funnel

Introduction to Social Media
Introduction to Social Media Marketing
Monitoring and Measurement [Social Media]
Optimizing Your Social Profiles
Social Media Strategy—From A to Z
Social Media Survival: A Guide for Small Businesses
General
Accessibility for Editors
Conflict Resolution
How to Evolve Your Writing from Print to Online
Increase Efficiency with Microsoft Word
Managing People for Superior Results: The Fundamentals of Supervision
Photoshop Essentials
Photoshop Tips and Tricks
Using Storytelling to Boost Your Nonprofit's Communications
Web Writing for the Government of Canada
WordPress 5 Essential Training
Working Sm@rt with Outlook
I also enjoy sharing what I have learned with others, so they can learn from my experience. This includes giving an Editors Canada webinar on social media marketing with a colleague and another on creating a realistic production schedule.
If you want to find out more about my experience, check out my LinkedIn page.
Email me, so we can talk about how my unique combination of skills can help you achieve your goals.